Enjoy more pictures!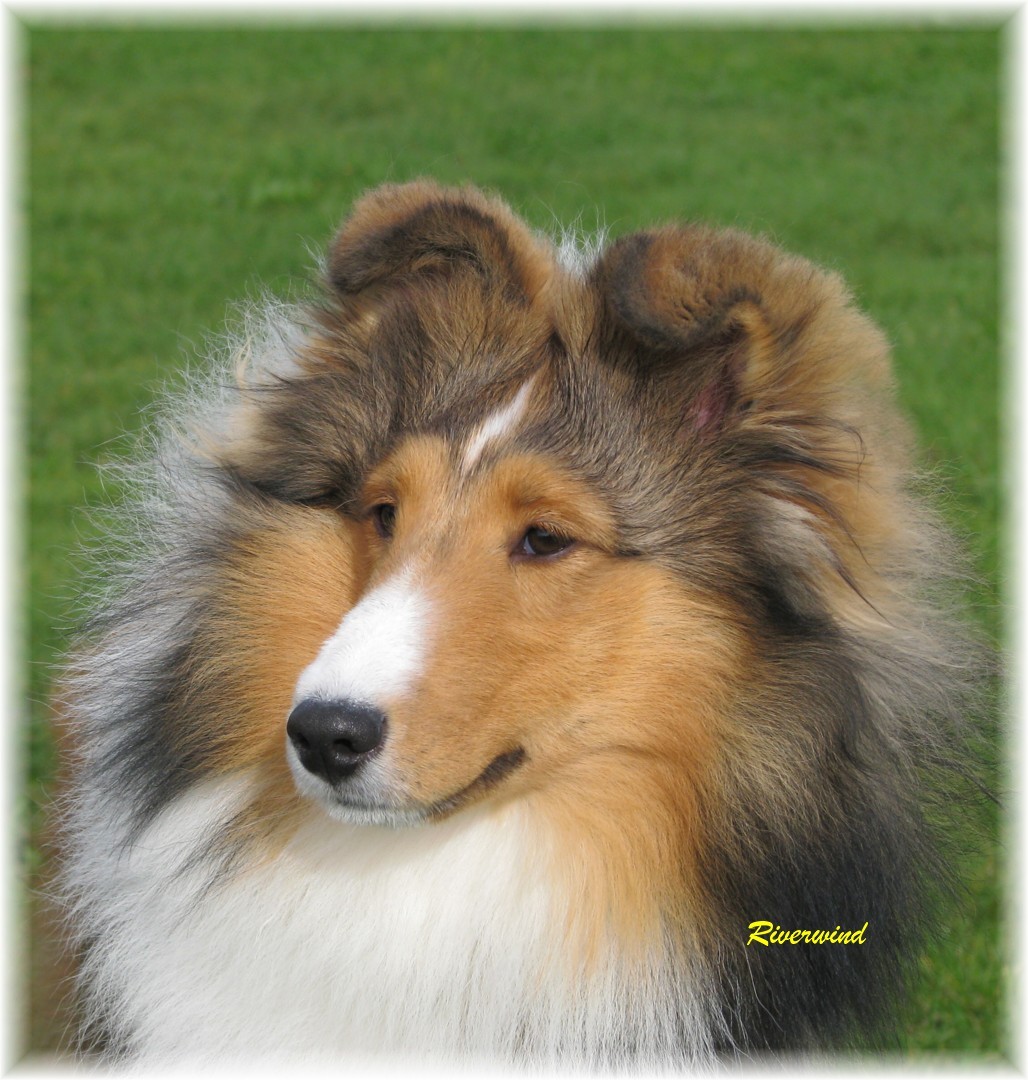 Nice head shot of Ch. Desi who I purchased from Barb Vann years ago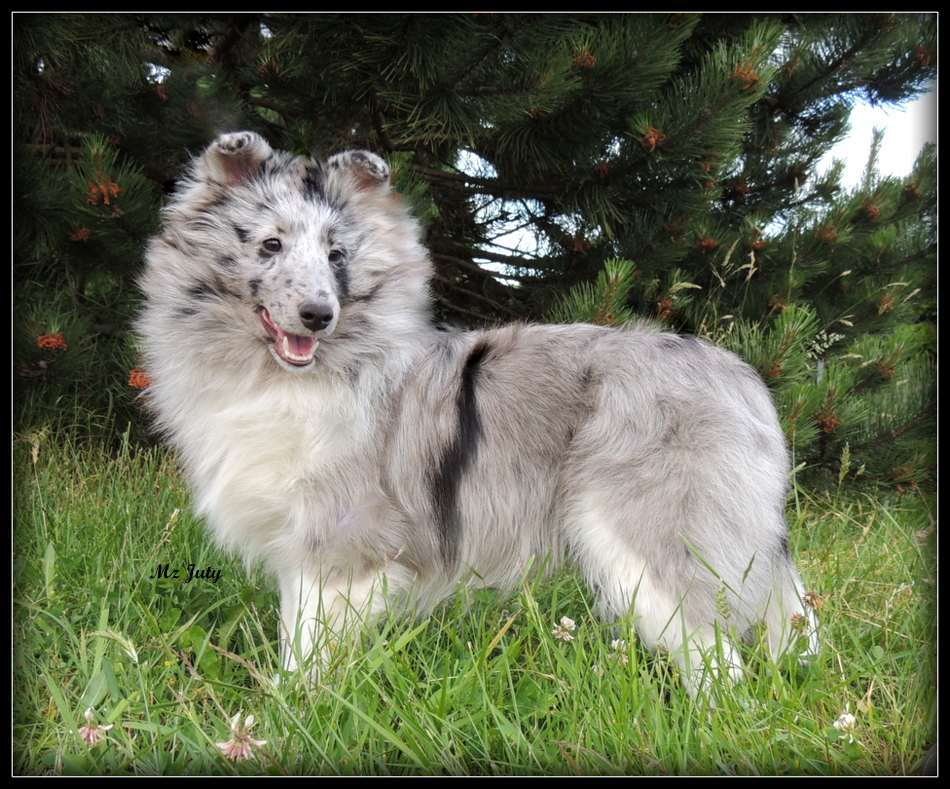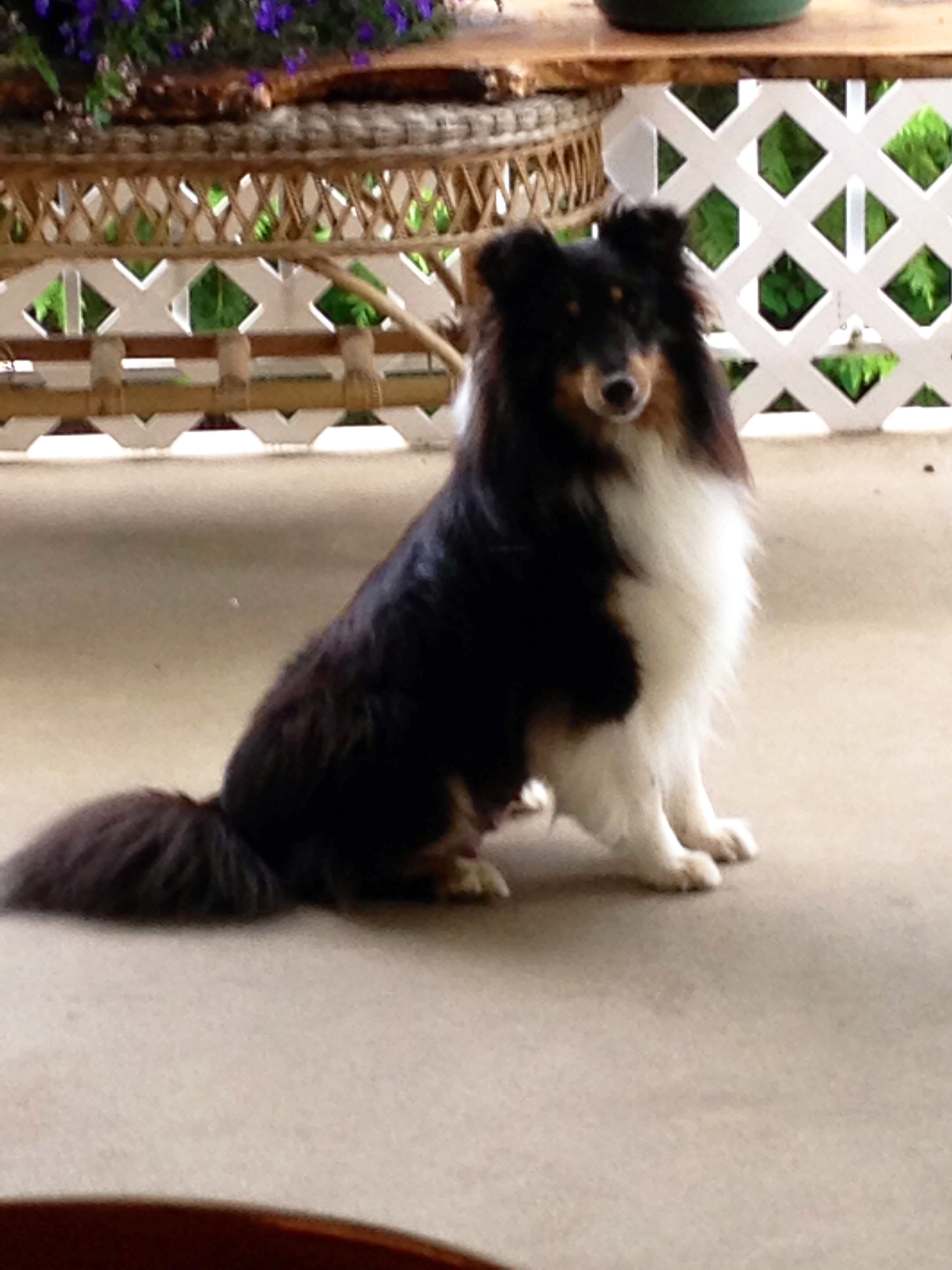 Both of these girls hated to show...but produced some lovely pups to carry on with.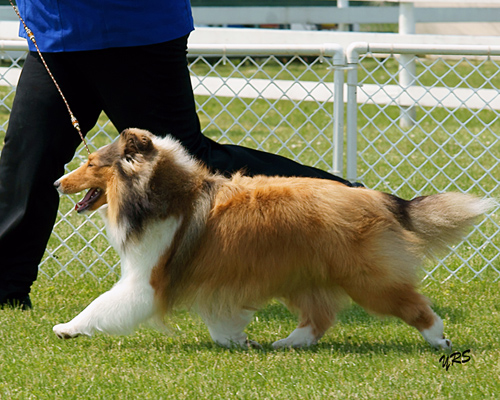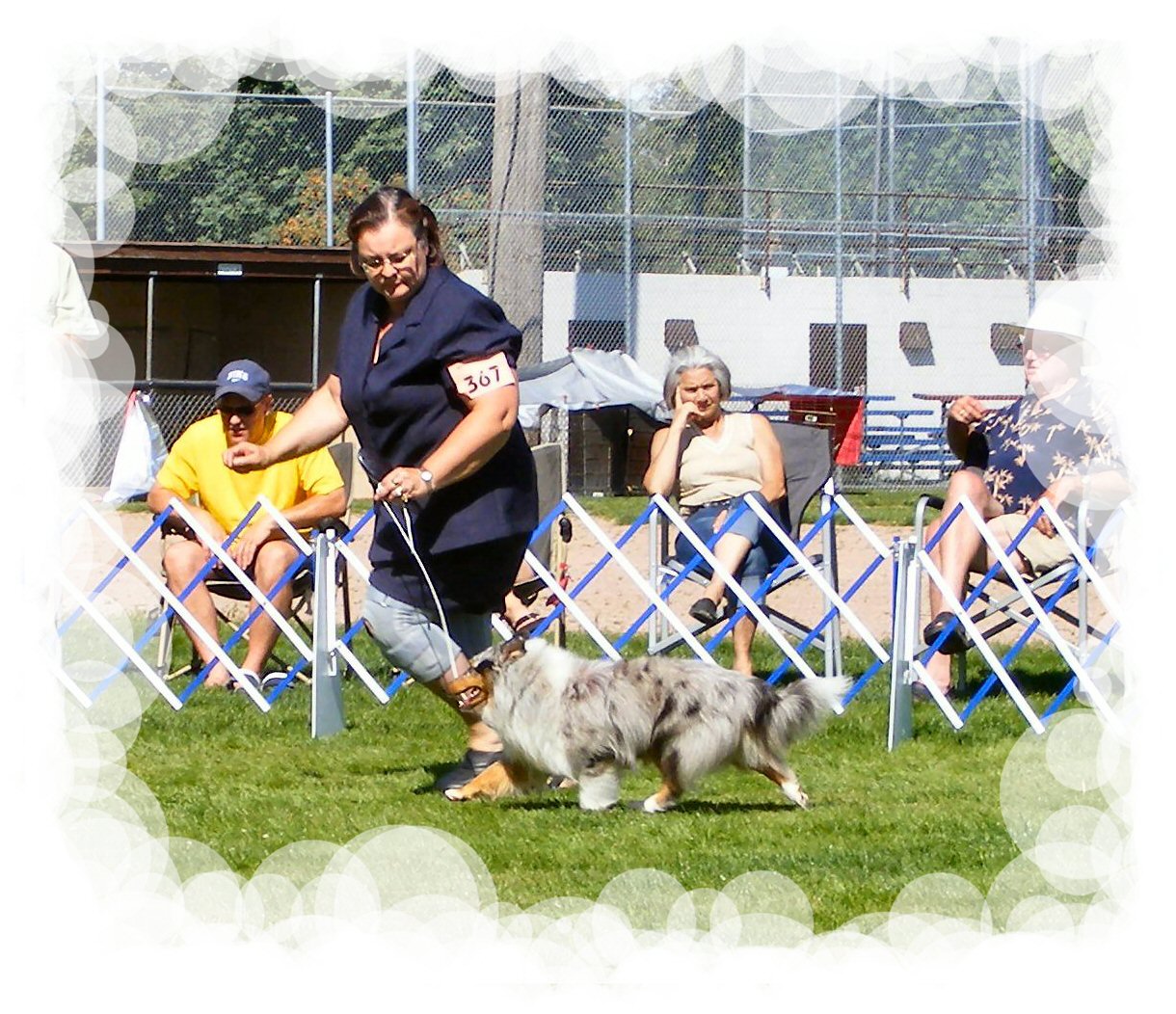 Some nic movement shots of Ch. Desi and BIS Ch. Brie
This lovely bitch was my keeper...no intention of selling her but was talked into a co-own so that I could "make room". Long story short, she was up to 5 points on her championship, had produced another "keeper" for me...but was spayed, contrary to our contract, before she could finish her championship. A disappointment...but I had a puppy from her to continue on with.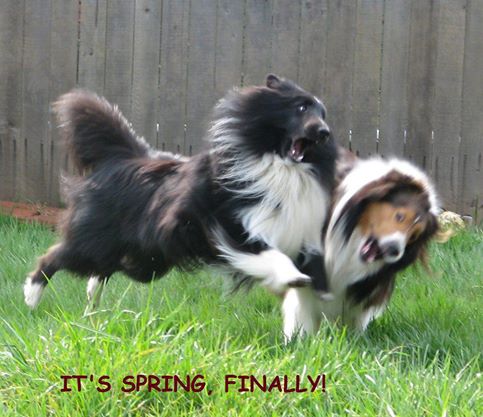 I could never resist this picture. It is the epitome of happiness in running and playing in a large yard.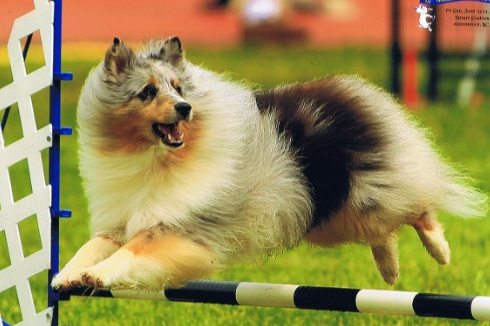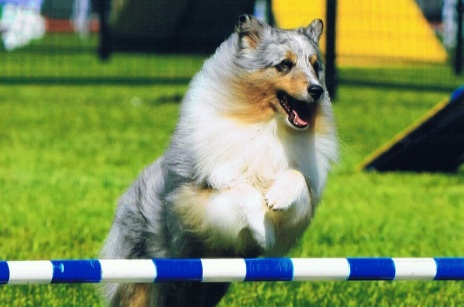 Happy, Happy Merlin!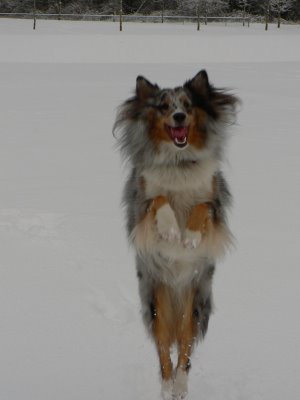 Sassy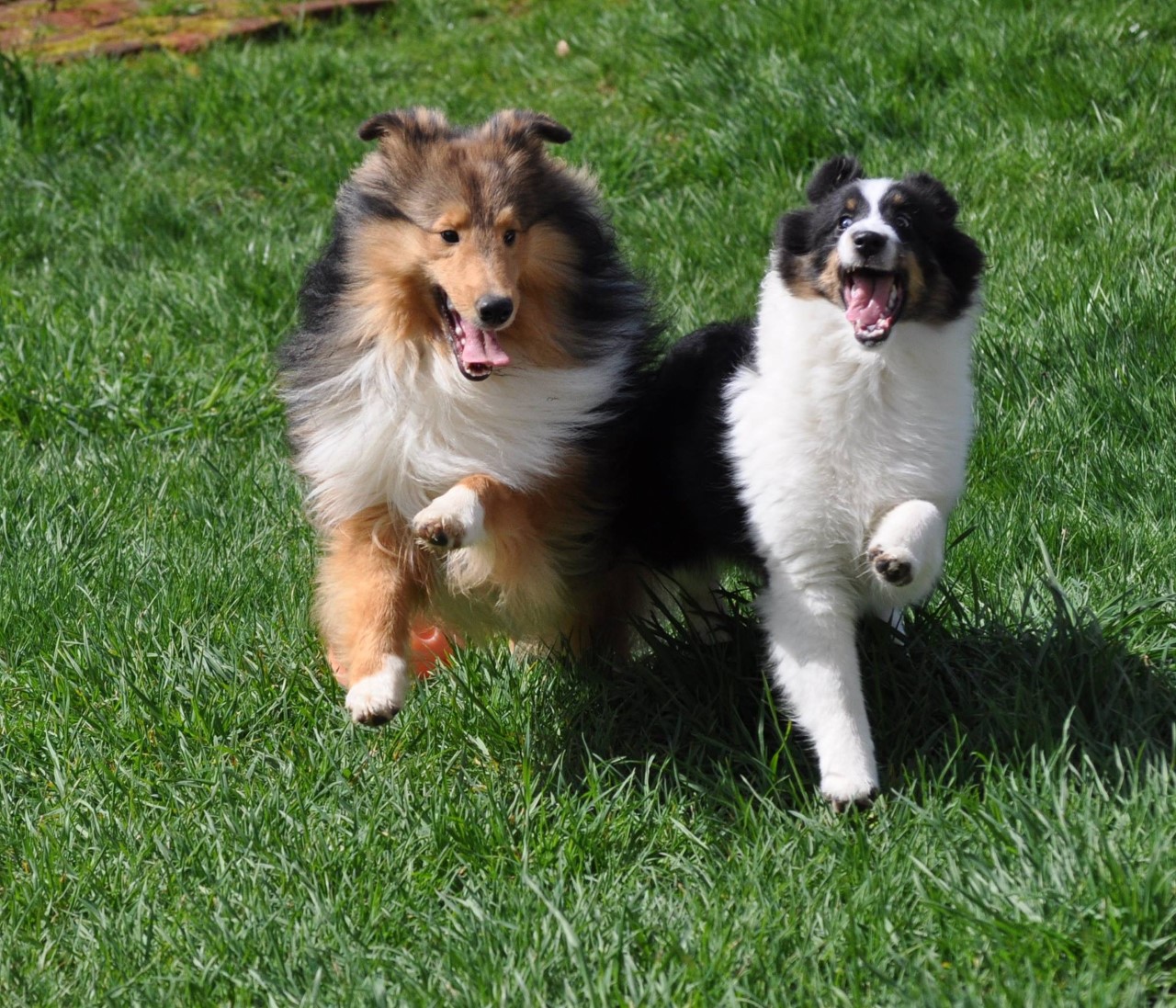 Buddy and Tia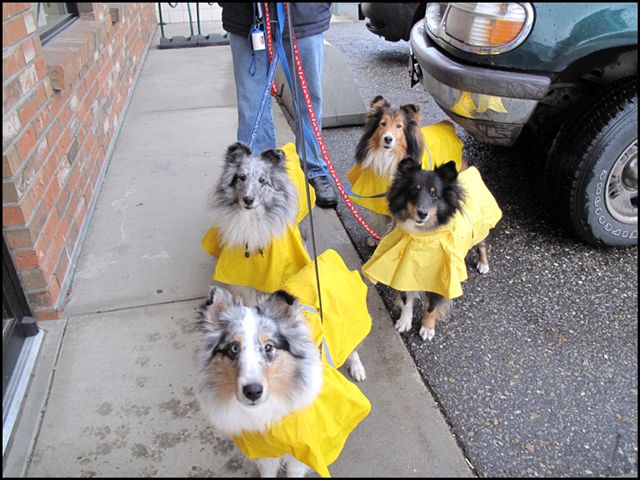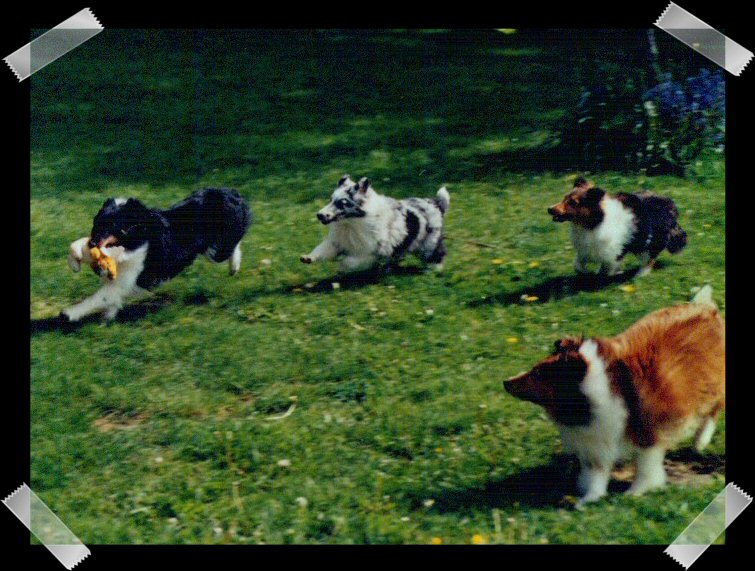 Ocean, Icy, Lizzie and Sheba - living with the Walfords. - puppies playing keep away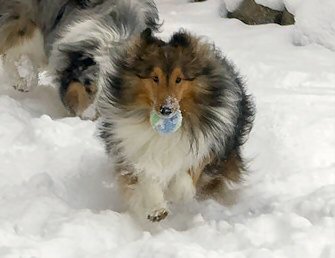 Noah playing in the snow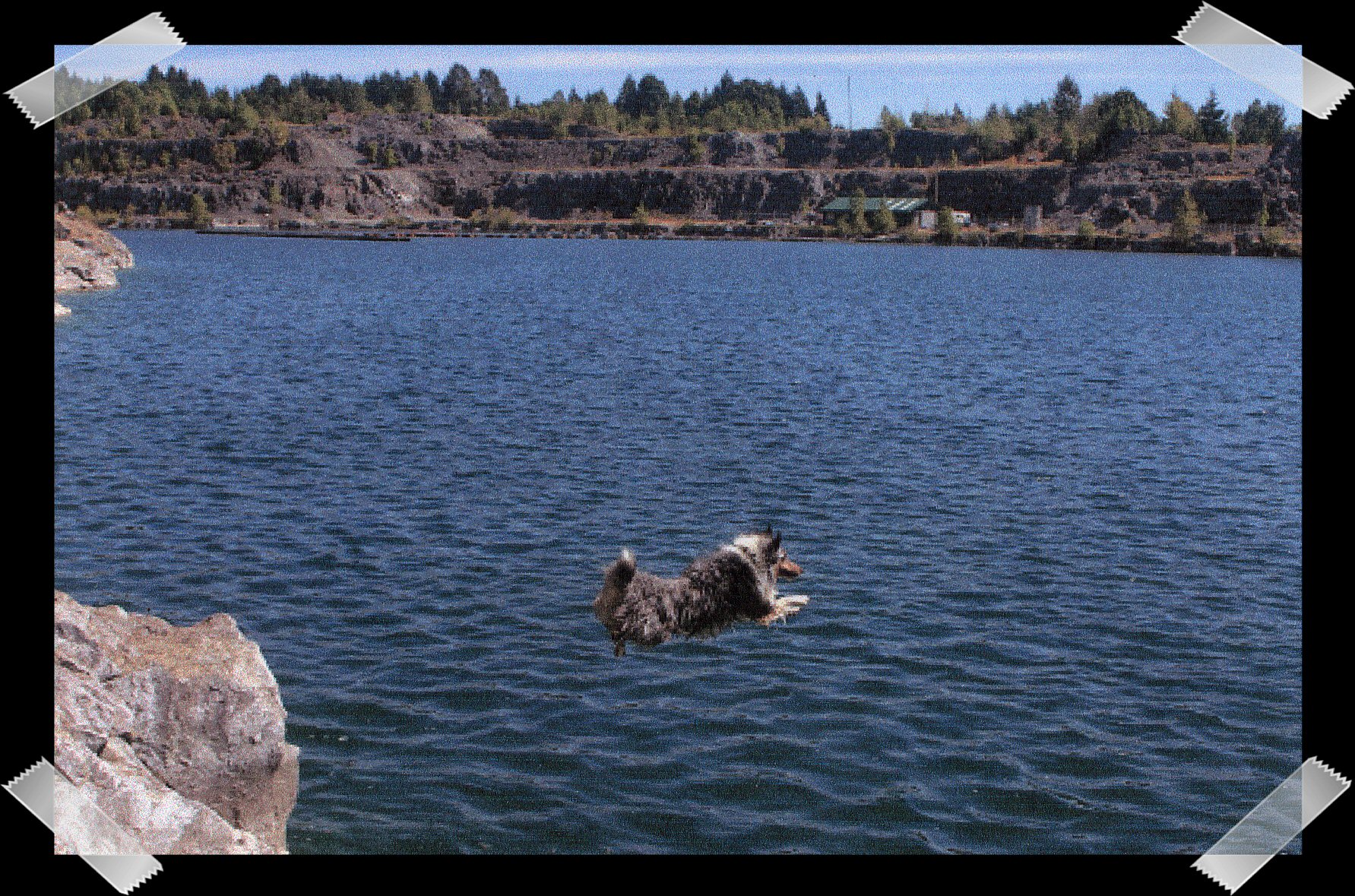 Saber cliff diving at the lake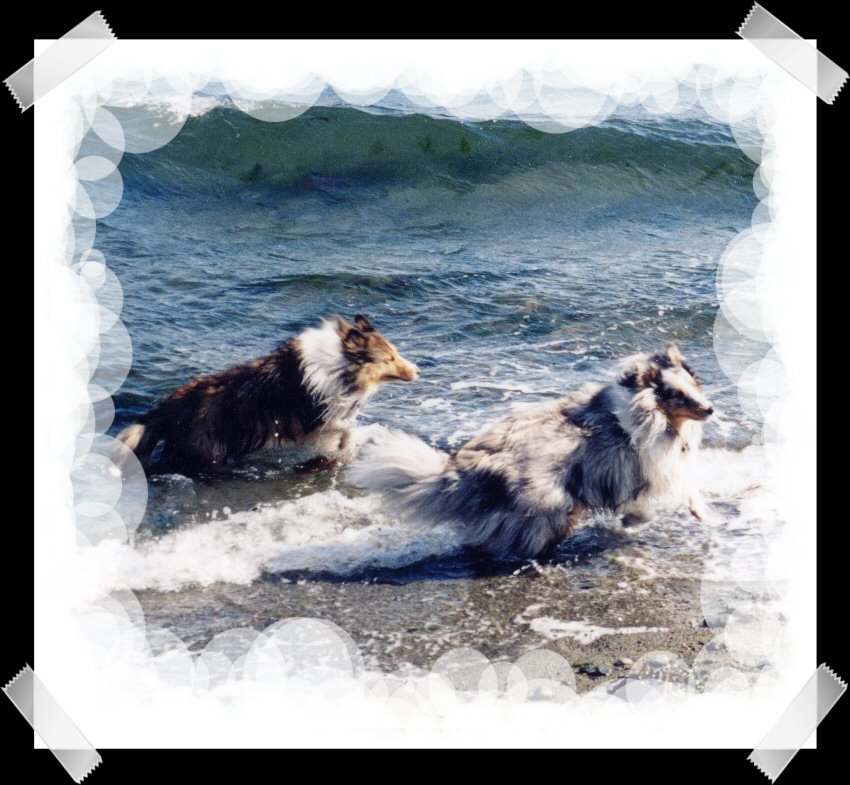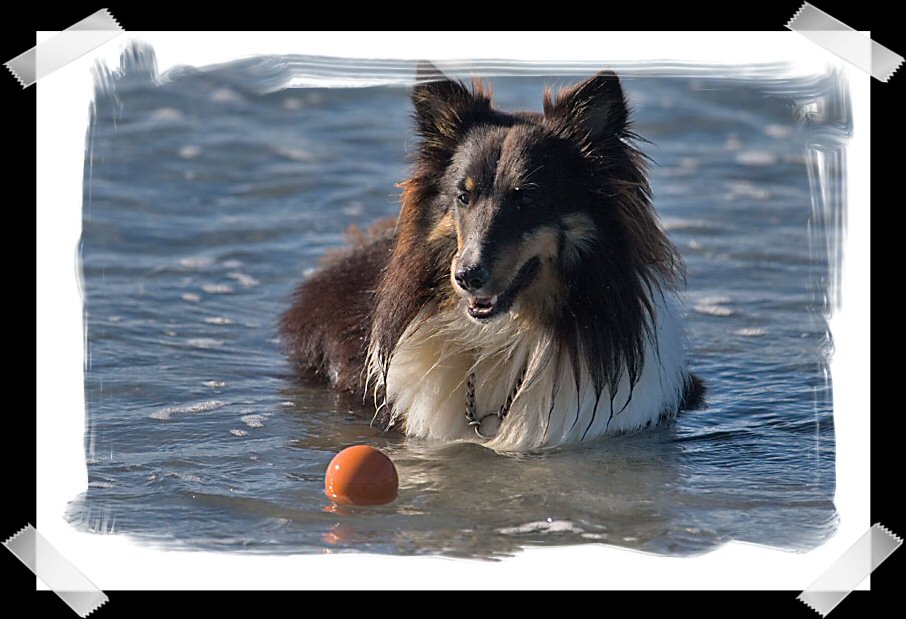 Who says Shelties don't like the water? These ones certainly do!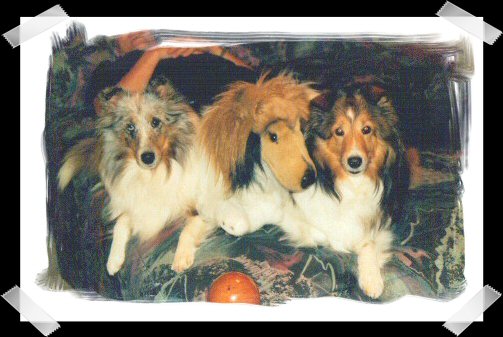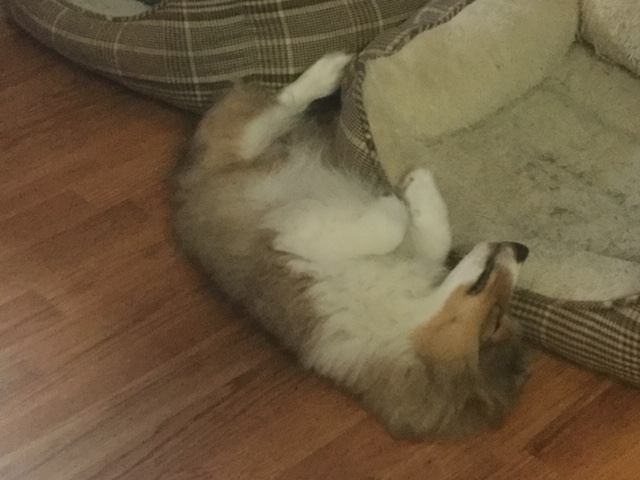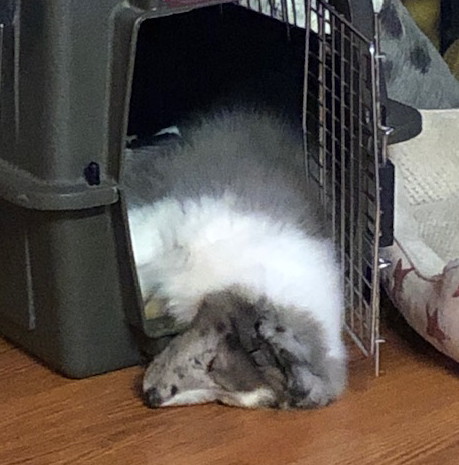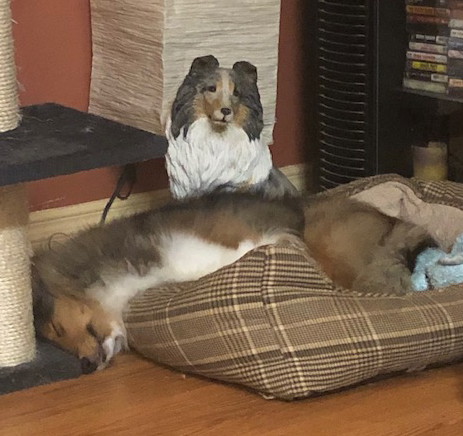 No matter how contorted, they still manage to look comfortable!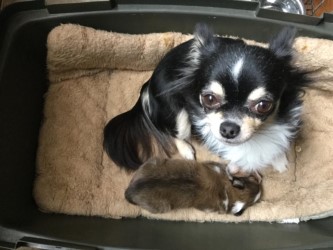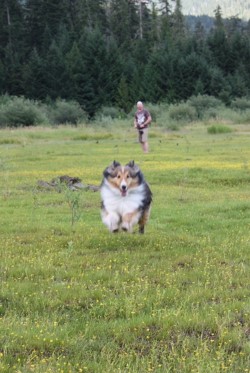 The story behind these two pictures is really amazing. I had a singleton puppy born through c-section and the mom rejected him...would not clean him, would not drop down milk to feed him. I ended up syringe feeding him at first, but working full time made it very difficult. I put out a call for help and a friend of mine who raises Chihuahuas called me. She had a female who loved pups, and although it had been a year or more since she had a litter of her own, it was thought she may make milk if she thought this was her puppy. So we tried it. The puppy would nurse on her dry teats, but I also syringe fed...and this lovely chi bitch loved that puppy up...constantly cleaning and cuddling him to keep him warm and lo and behold...her milk came in. After a week of watching, I no longer had to supplement him. She fed and cleaned that puppy until he became bigger than her! The photo on the right is him as a young adult, playing in a field in Victoria where he now lives in his furever home. I love that Miss Penelope!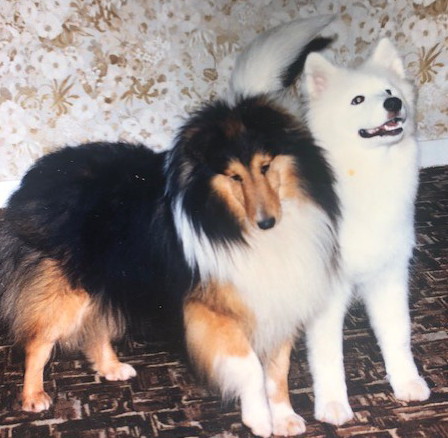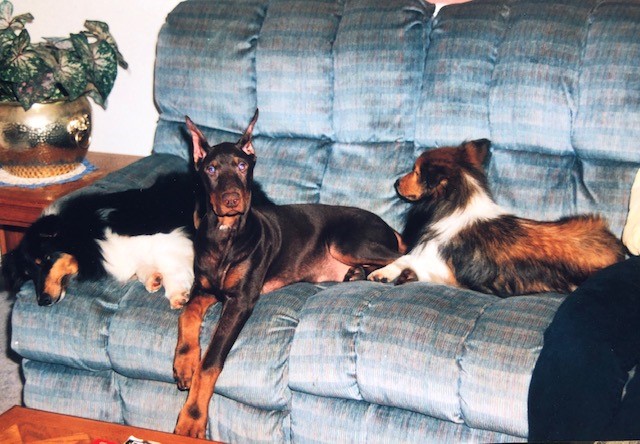 As you can see, I have had other breeds alongside my shelties and they all got along.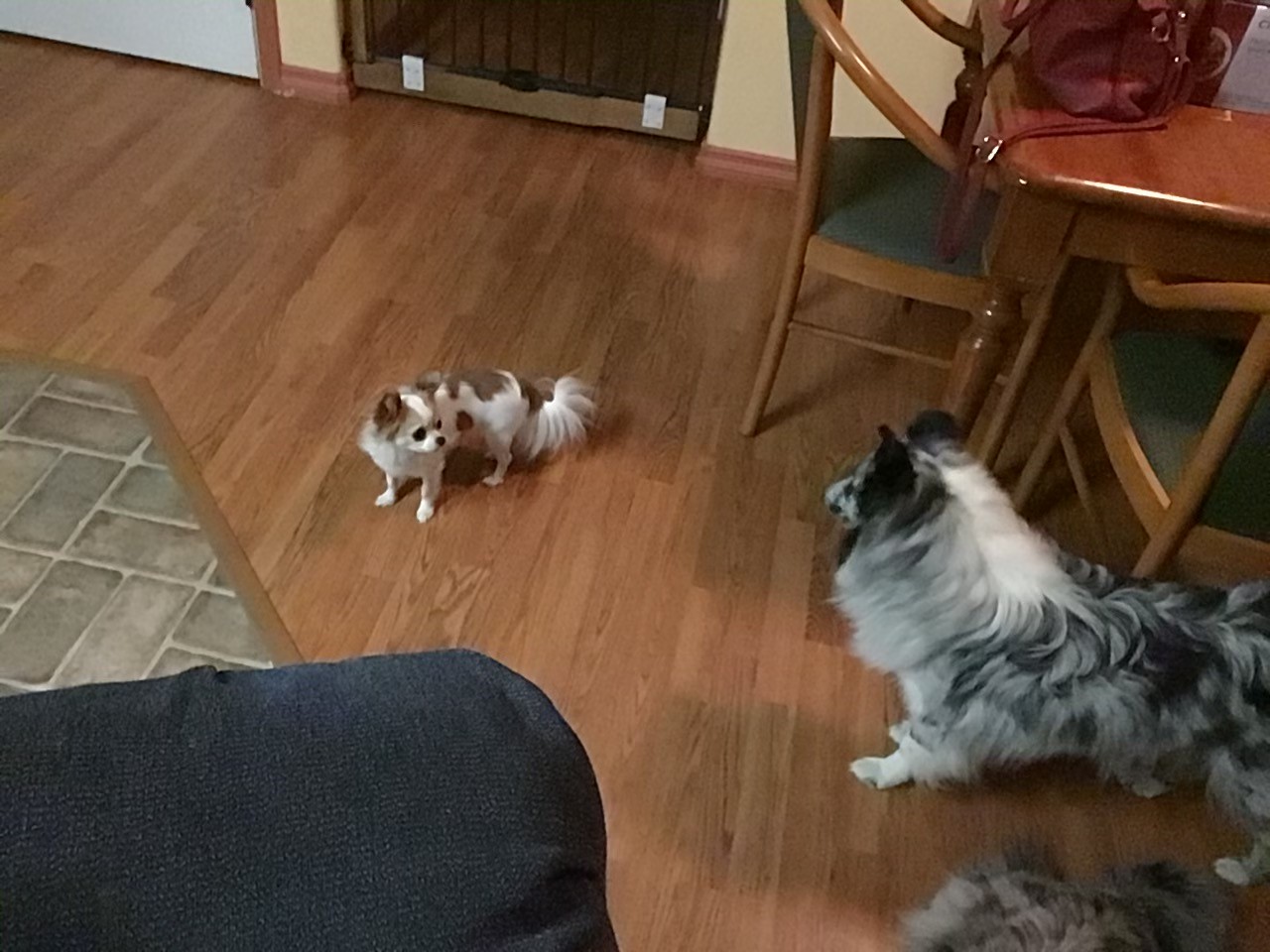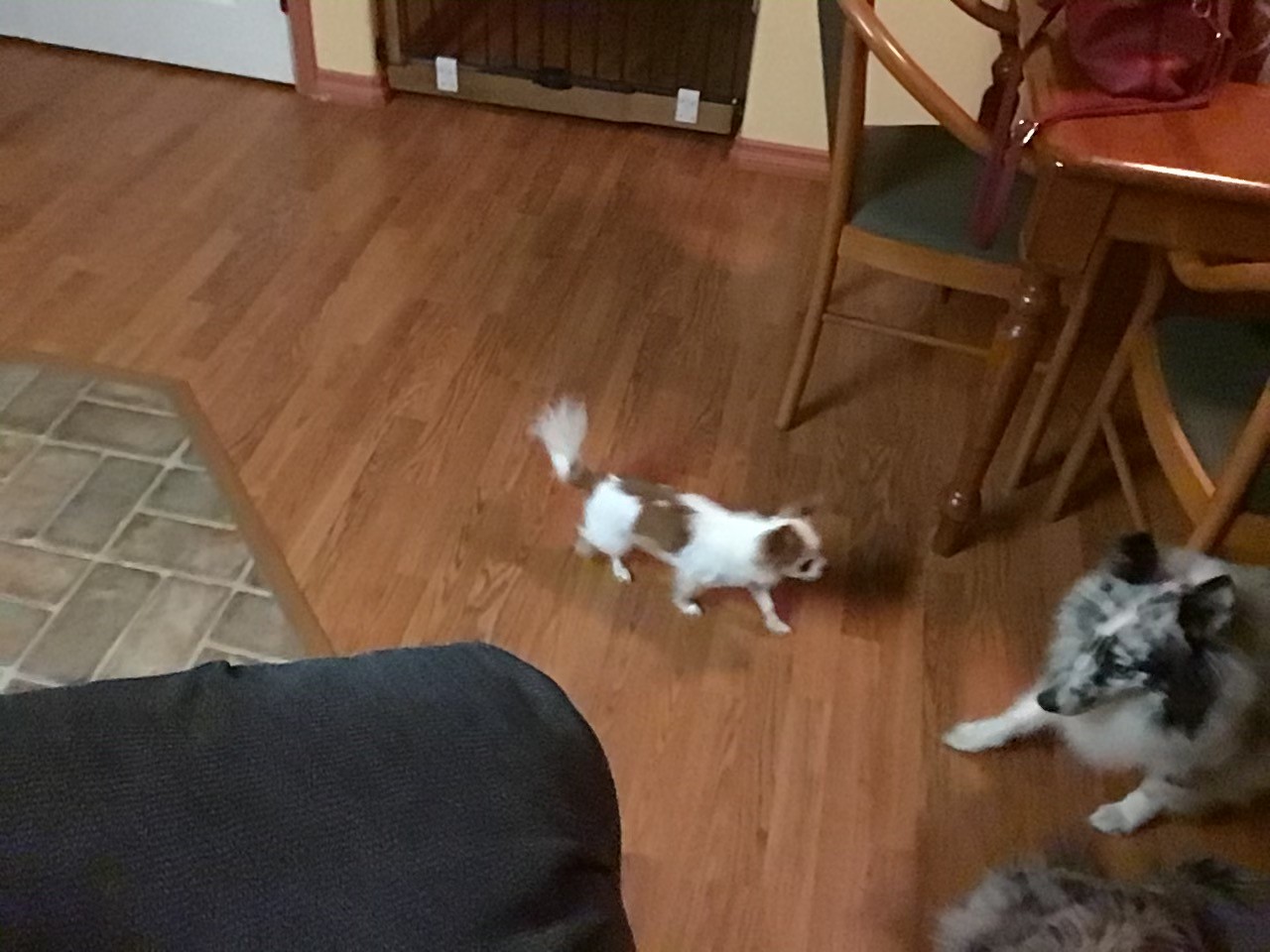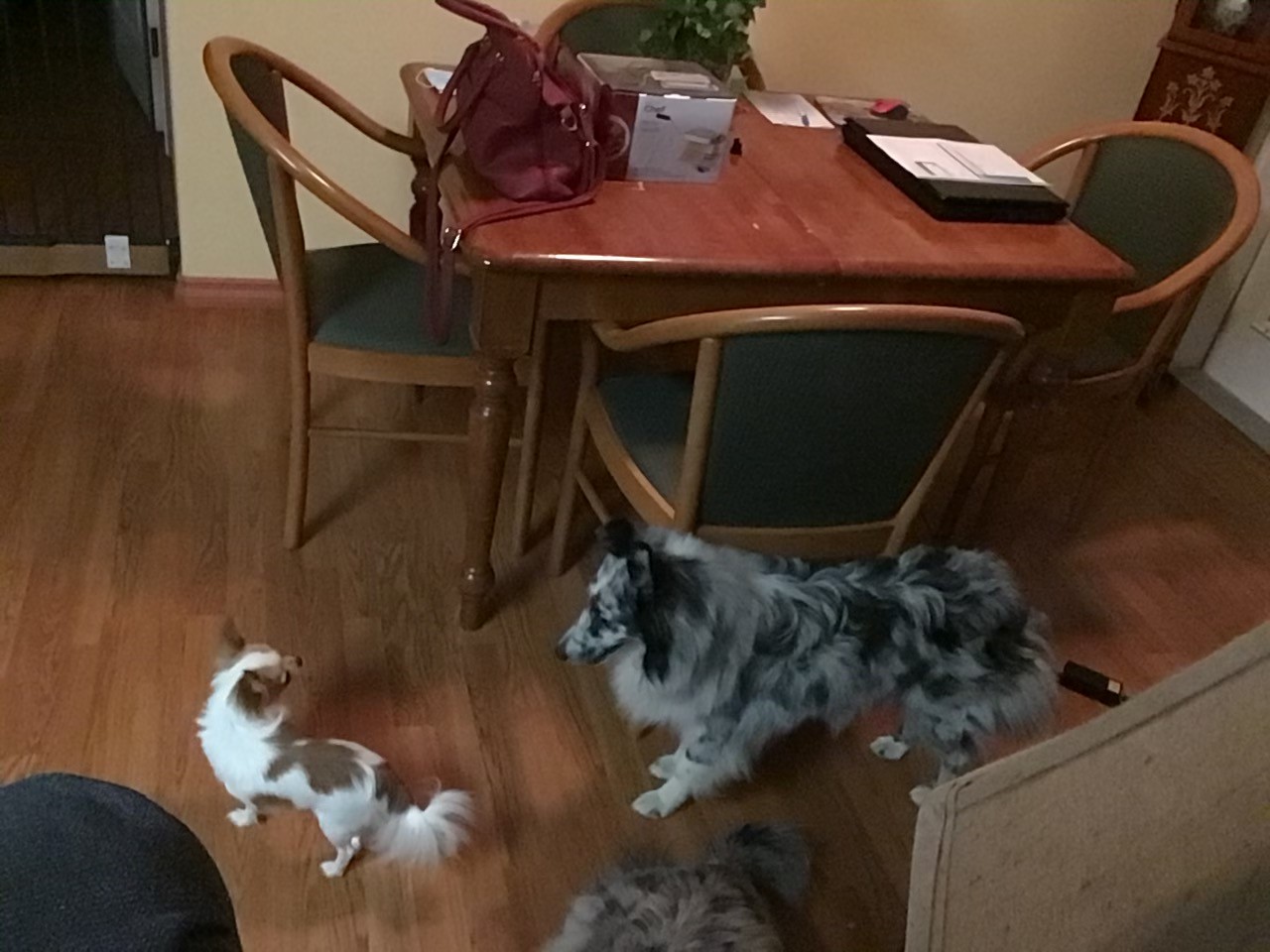 welll....all except....I think this is what is called a Mexican Standoff!!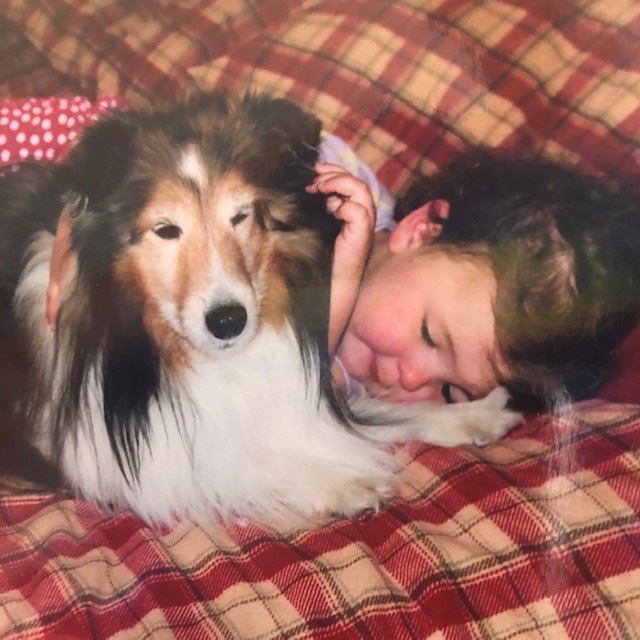 My old Jessie...she loved kids. My granddaughter Kaitlyn loved her. They would curl up in Grandmas bed for a nap.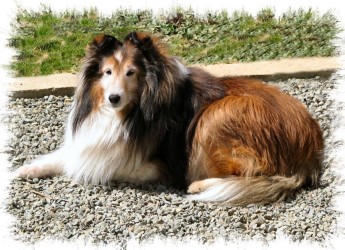 Jessie loved to lay in the sun in her older years warming her old bones.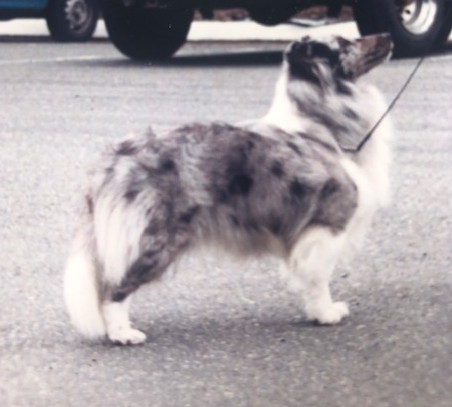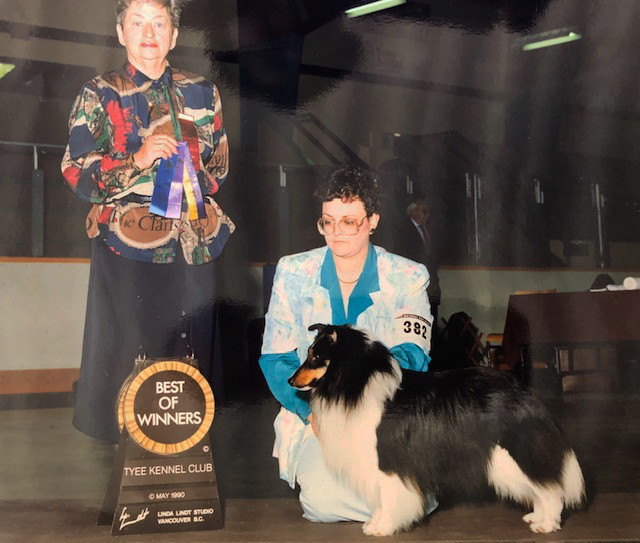 Some of my older dogs, Ch. Royal Oaks Marina, Ch. Royal Oaks Limited Edition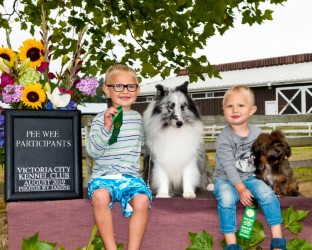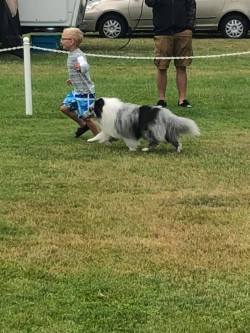 Shelties make great junior handlers dogs...this is Am.Gr.Ch.Can.Ch. Apple Acres Family Tradition with my handlers grandchildren.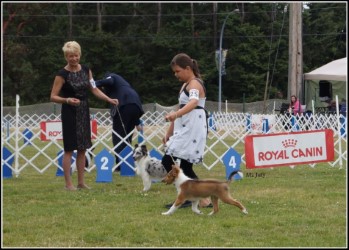 ...and my granddaughter with my handler watching on.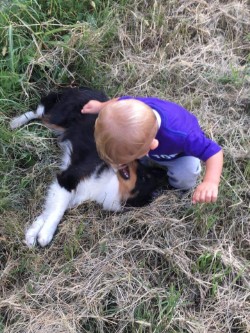 Like I said...shelties love children. This is Dom with his young human, Filippo. Dom flew all the way to Italy to find his young human!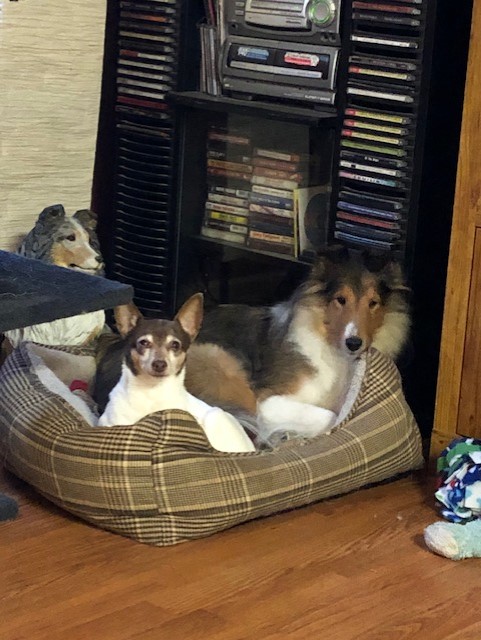 This is Fury with my old Toy Fox Terrier Lucy. Fury has a story to tell. Fury came to live with me from Nancy Tibben of Golden Hylite Shelties. We only had her for about three weeks when I got the dreaded phone call while at work from my husband saying Fury slipped out the front door when he wasn't looking and took off. By took off I mean, she booked it. She had not been with me very long so did not really know how to get home once she was gone...and although many sightings were made and followed up on, we could never get her near enough to catch her...and it certainly was not for lack of trying. We put it out to the large following of AV Chatter, a Face Book group of people in my area, approximately 13,000 strong...and boy was that a blessing. We had people looking out for her, handing out fliers, and hiking the trails with their dogs. Below is a map of where she was sited, and where she was finally captured by two kind samaritans who would not leave until they had her.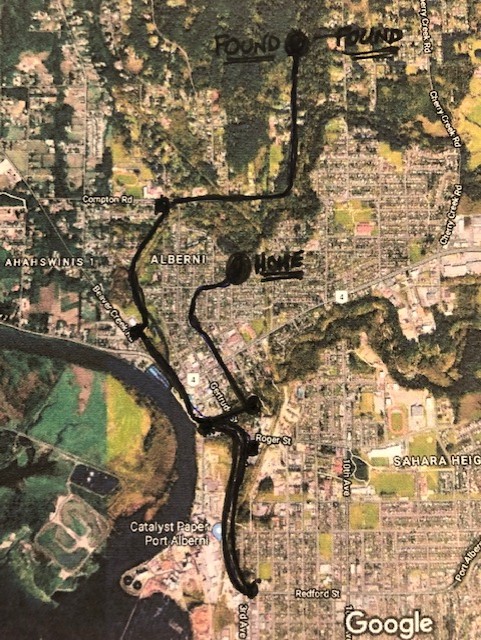 When she was sighted on the trail that bordered a huge densely forested area, it was a miracle really. She could have gone in any direction and not been found. But she stayed on this well hiked trail, hiding in the underbrush until someone spotted her, sent out a picture, and we followed it up. She never came out to us...but later two hikers with dogs sighted her and stayed in the area. She came out to play with their dogs, they sat on the ground and kept offering treats until she came hear enough for them to slip a leash on her. Fury was gone for six days in some of the worst weather we had in December, howling wind and rain, even snow...below are the pictures taken the day she was finally caught...the one on the left was on the trail before we were able to bring her home, the one on the right after a bath and a meal.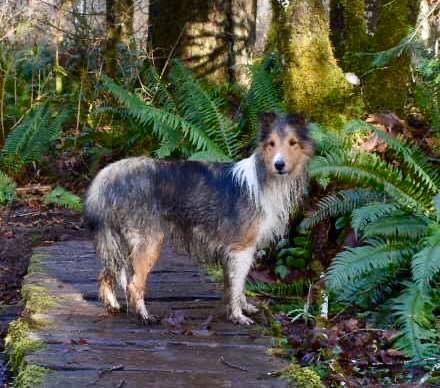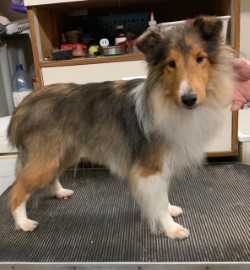 I brushed all the burrs and mats out and bathed her. Picture on the right. She was so hungry she was chowing down on some food as I was blow drying her. Her pads were worn down. Polysporin went on those...and then she was given a nice warm bed in the living room. She was so happy to be home, she would not go near the front door after that. Every time we left, she would huddle under the table and watch us walk down the hall to the door. I told my husband that it was like she thought he had shoved her out the door and locked it behind her! It was a hard learned lesson for sure. Vet check the following day showed no ill effects and she soon settled in to our home.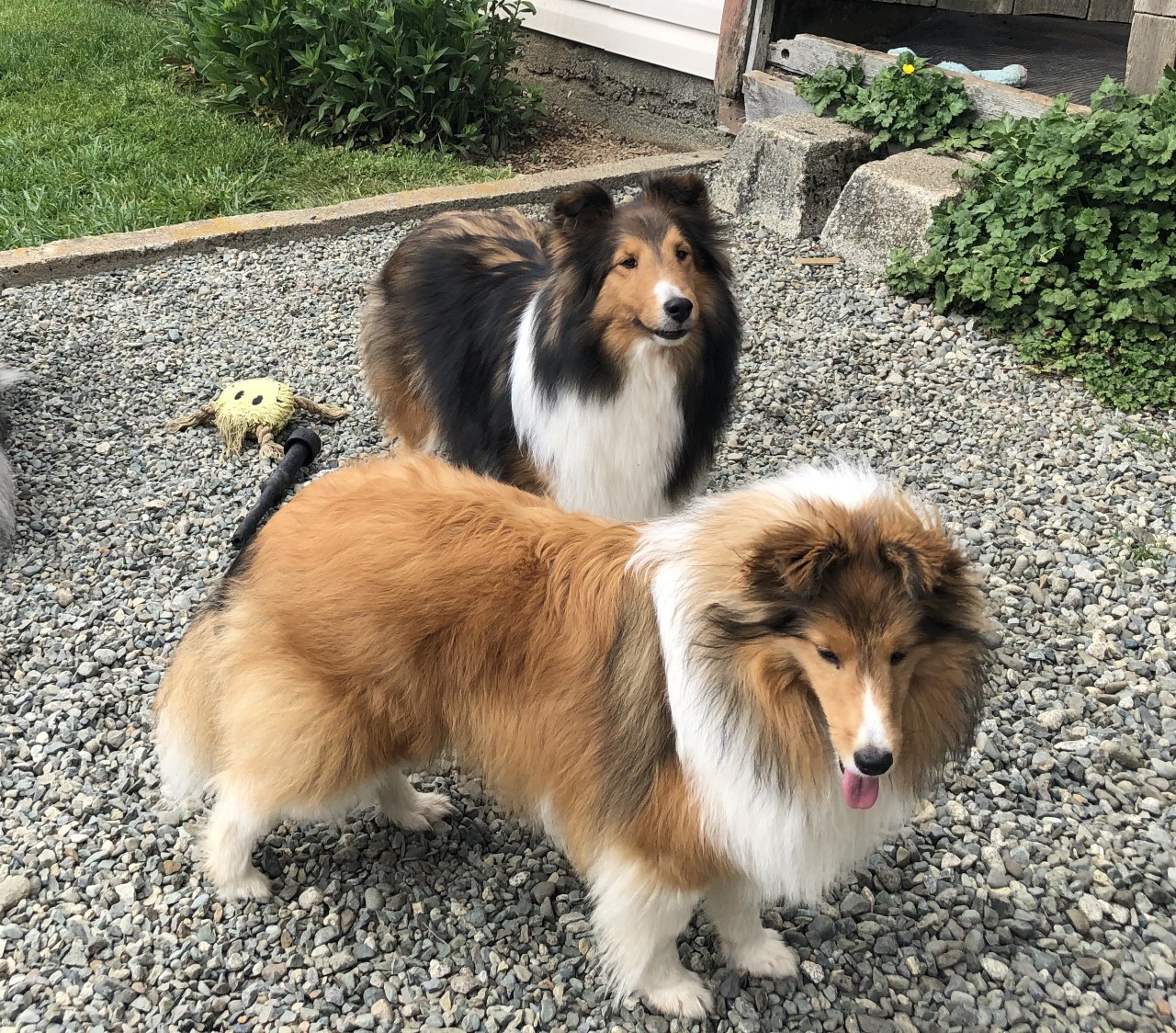 Fury and her pal, Freya.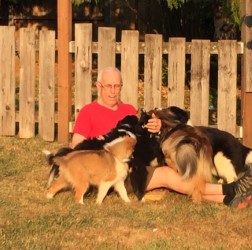 Wonder why the dogs all love Monty....this is why.
Just some cute pictures now!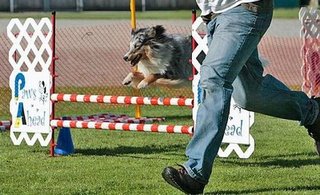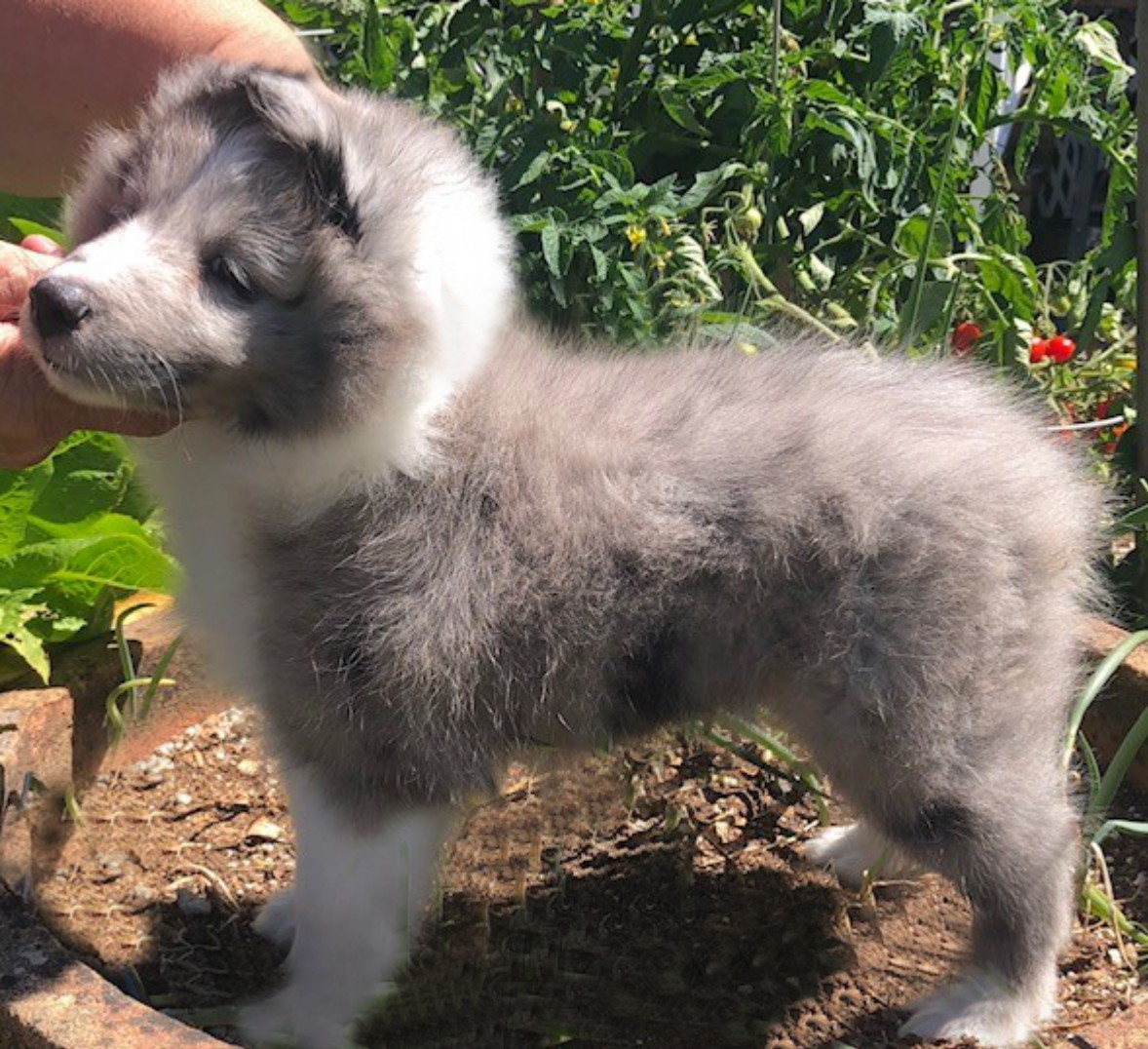 LONDON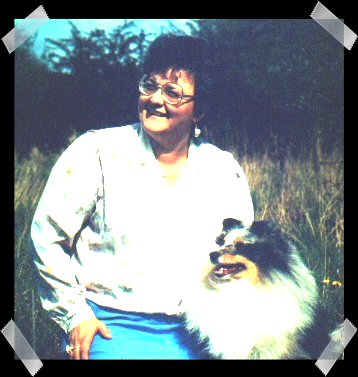 A LONG TIME AGO...ME AND SCOOTER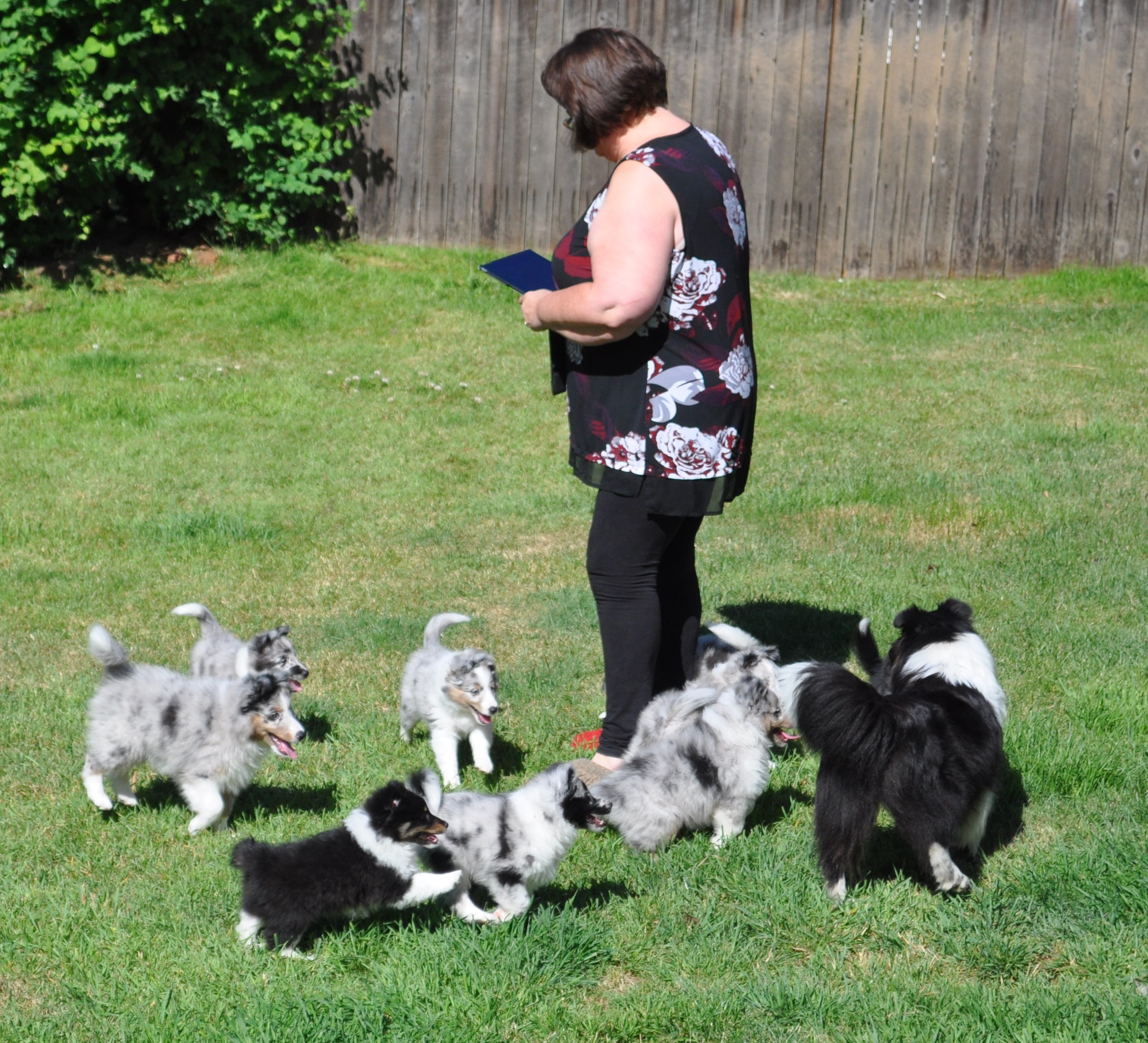 THEY NEVER STAND SSTILL LONG ENOUGH TO GET A DECENT PICTURE!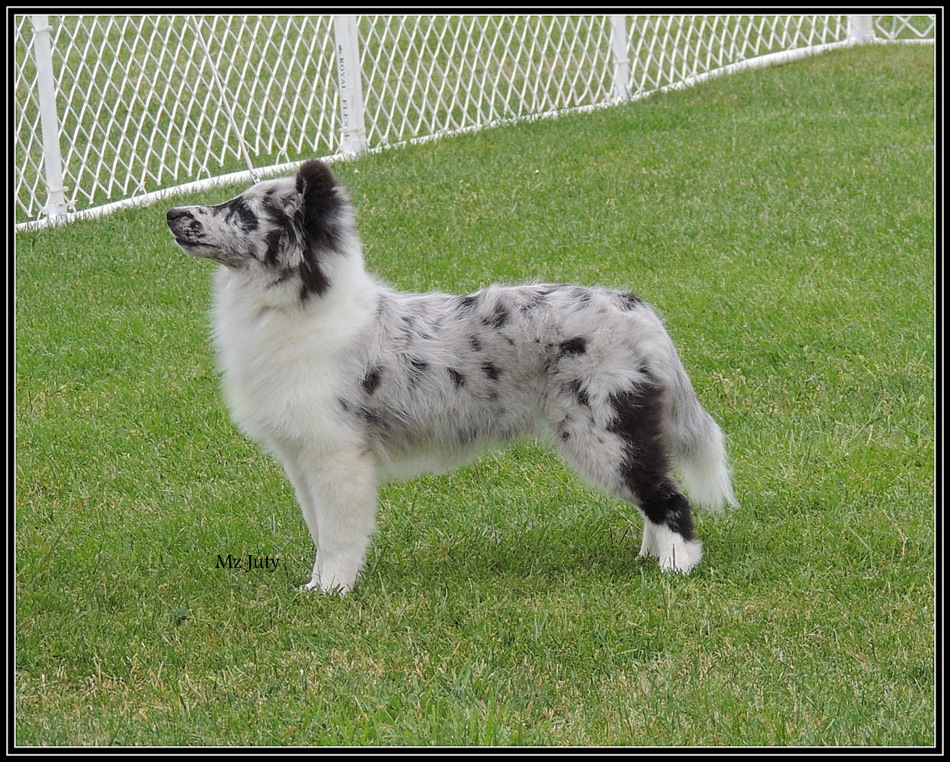 PUPPY CHANEL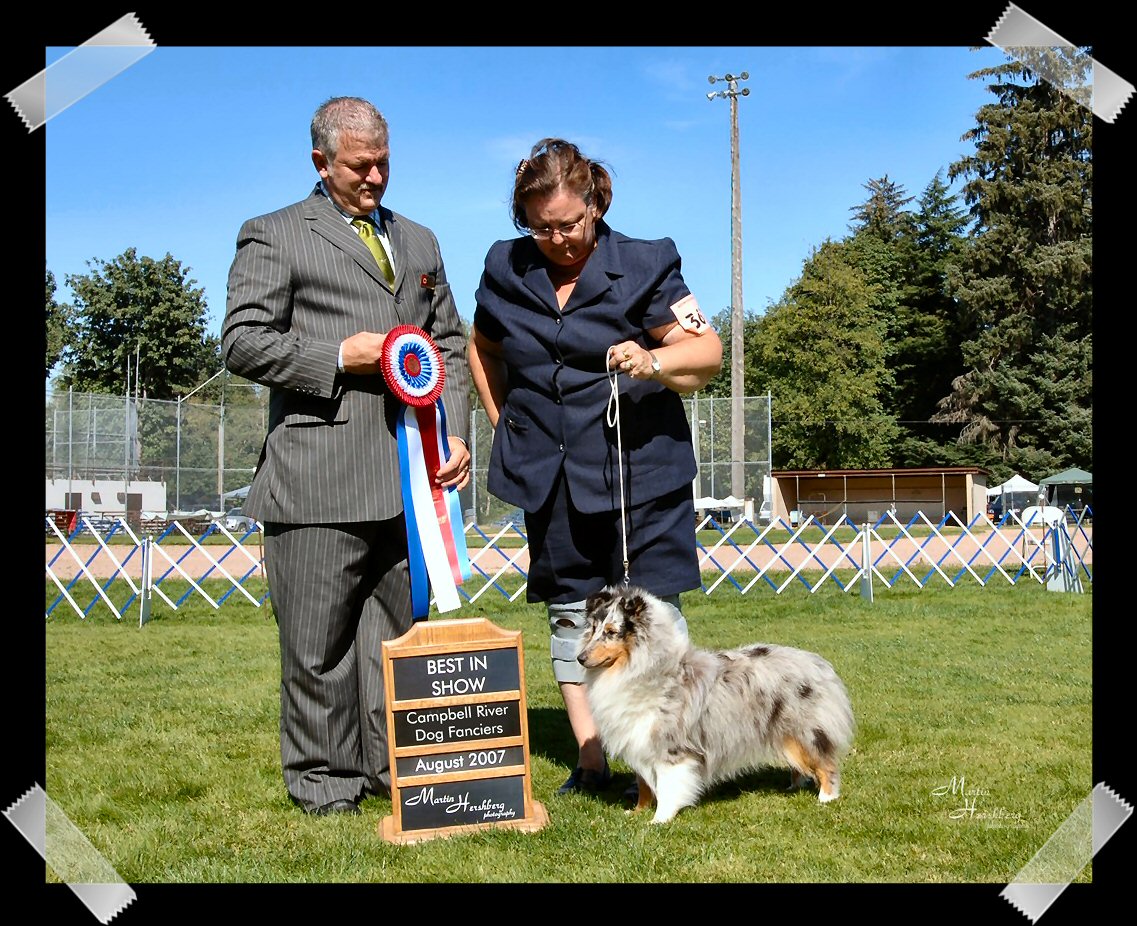 THRILL OF MY LIFETIME, MY BIS WITH CH. MARPOINTE SIMPLY DELICIOUS "BRIE" UNDER RESPECTED JUDGE GUY JEAVONS...MOSTLY HANDLED BY ME TO HER CHAMPIONSHIP, AND HANDLED BY ROD OISHI ON THE MAINLAND FOR GROUP WINS, THEN FINALLY BY ME AGAIN TO THIS AWESOME WIN AT CAMPBELL RIVER DOG FANCIERS ON THE ISLAND.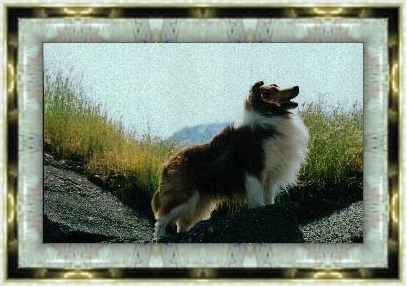 LOVE THIS PICTURE I TOOK WHILE CAMPING AT ONE OF THE ISLAND SHOWS...CH. GLENMEADOWS CALL IT DESTINY...LOVED THAT DOG...HE SIRED SOME LOVELY DOGS FOR ME.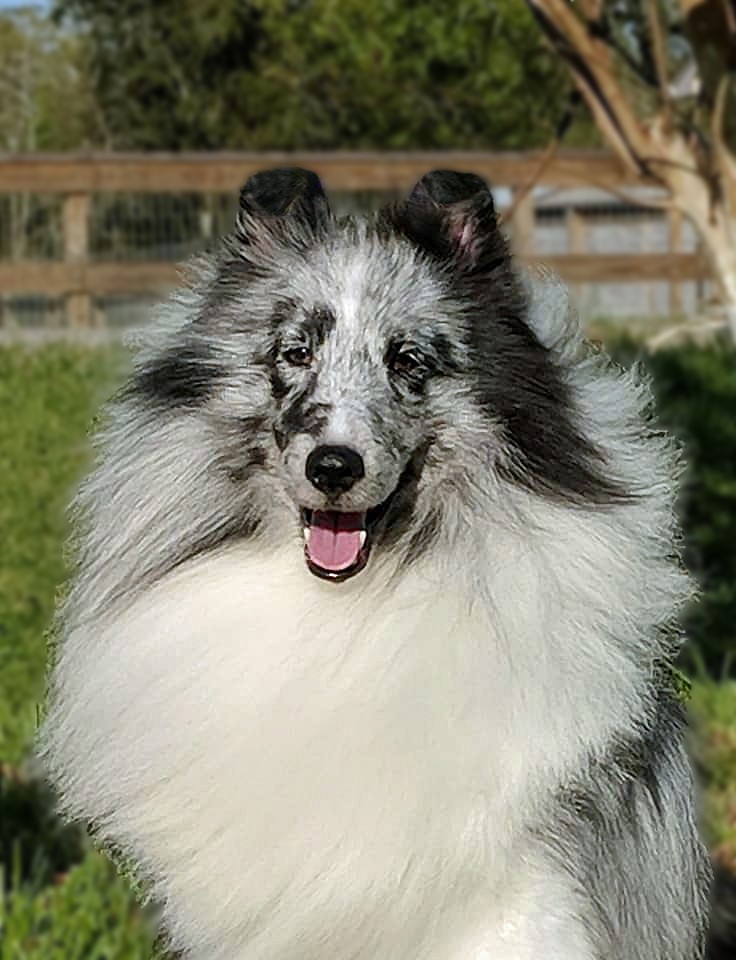 LOVE THIS HEAD STUDY OF HANK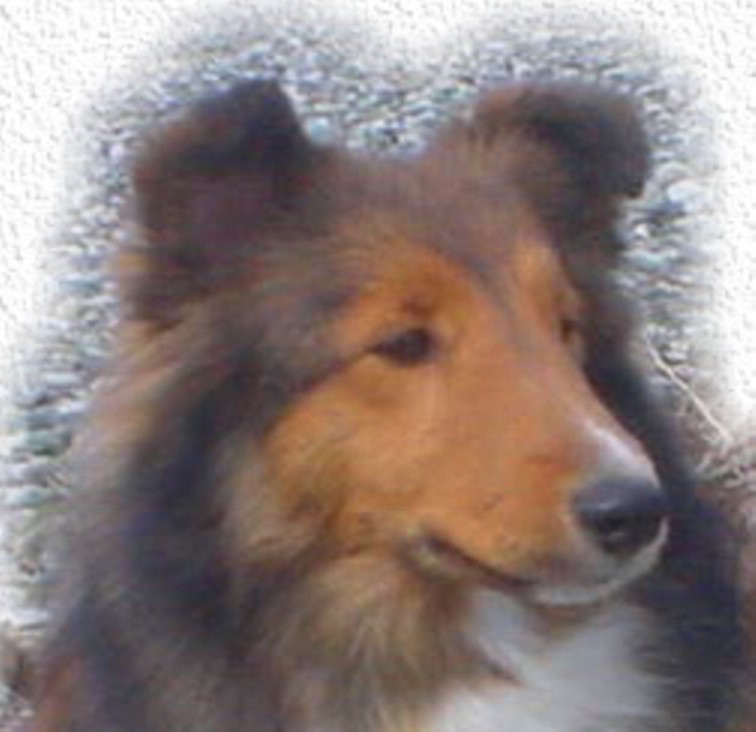 MARPOINTE'S MERCEDES, DAM OF CH. SUNNYGATE REMINIS O'MARPOINTE "REMI" AND CH. SUNNYGATE SKOOKIM O'MARPOINTE "PEN NY" MY PICKS BACK FROM THE FIRST TWO OF MERCY'S LITTERS WITH BEVERLY GUTHRIE OF SUNNYGATE SHELTIES. THEY WERE SIRED BY MY CH. MARPOINTE'S COOL HAND LOOK...MY HEART DOG.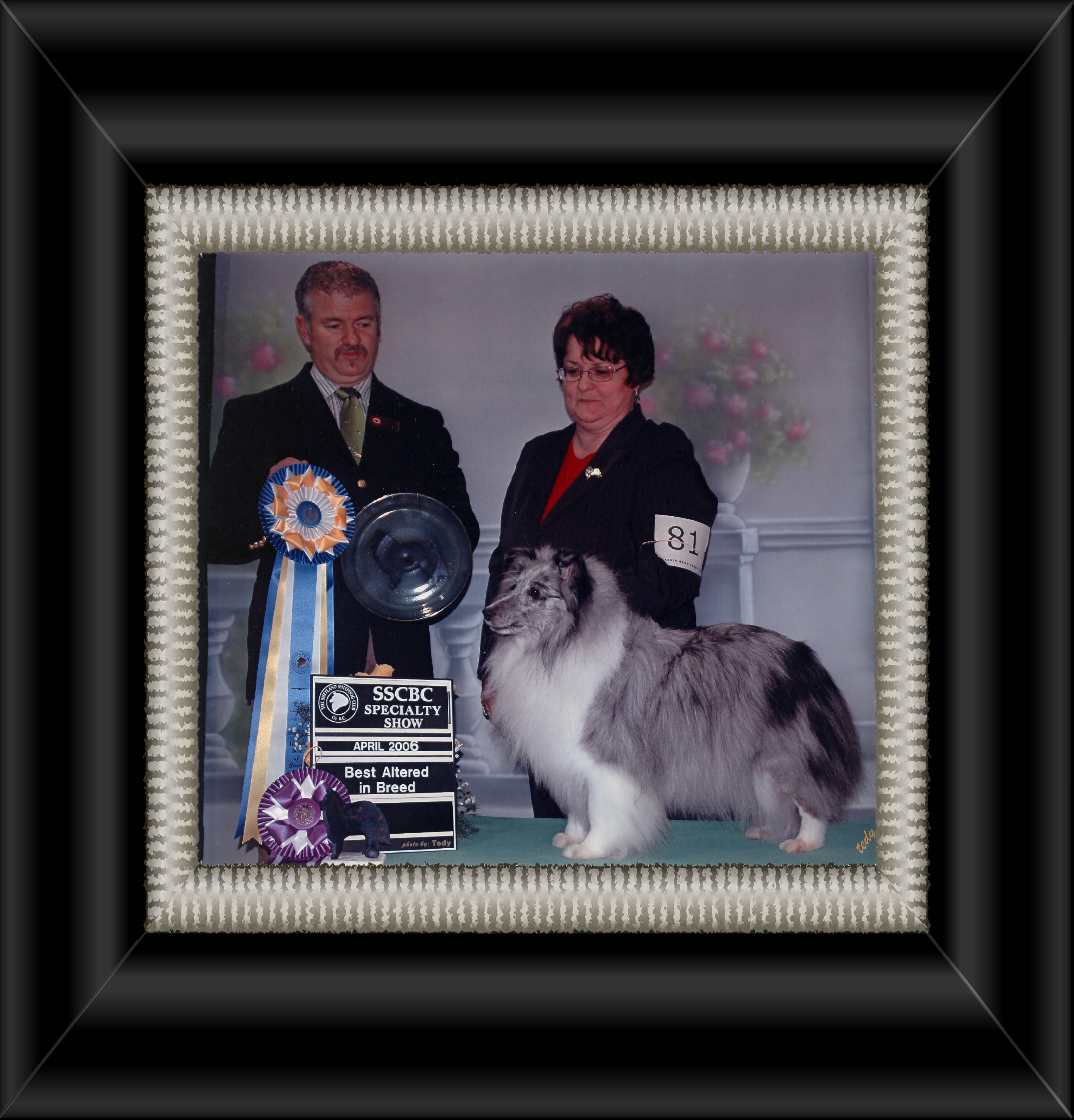 MULTI BPIS CH. MARPOINTES ICE IS NICE CAME OUT OF RETIREMENT FOR THIS GREAT WIN FROM BREEDER JUDGE GUY JEAVONS...COULDN'T ASK BETTER THAN THAT! WELL....MAYBE....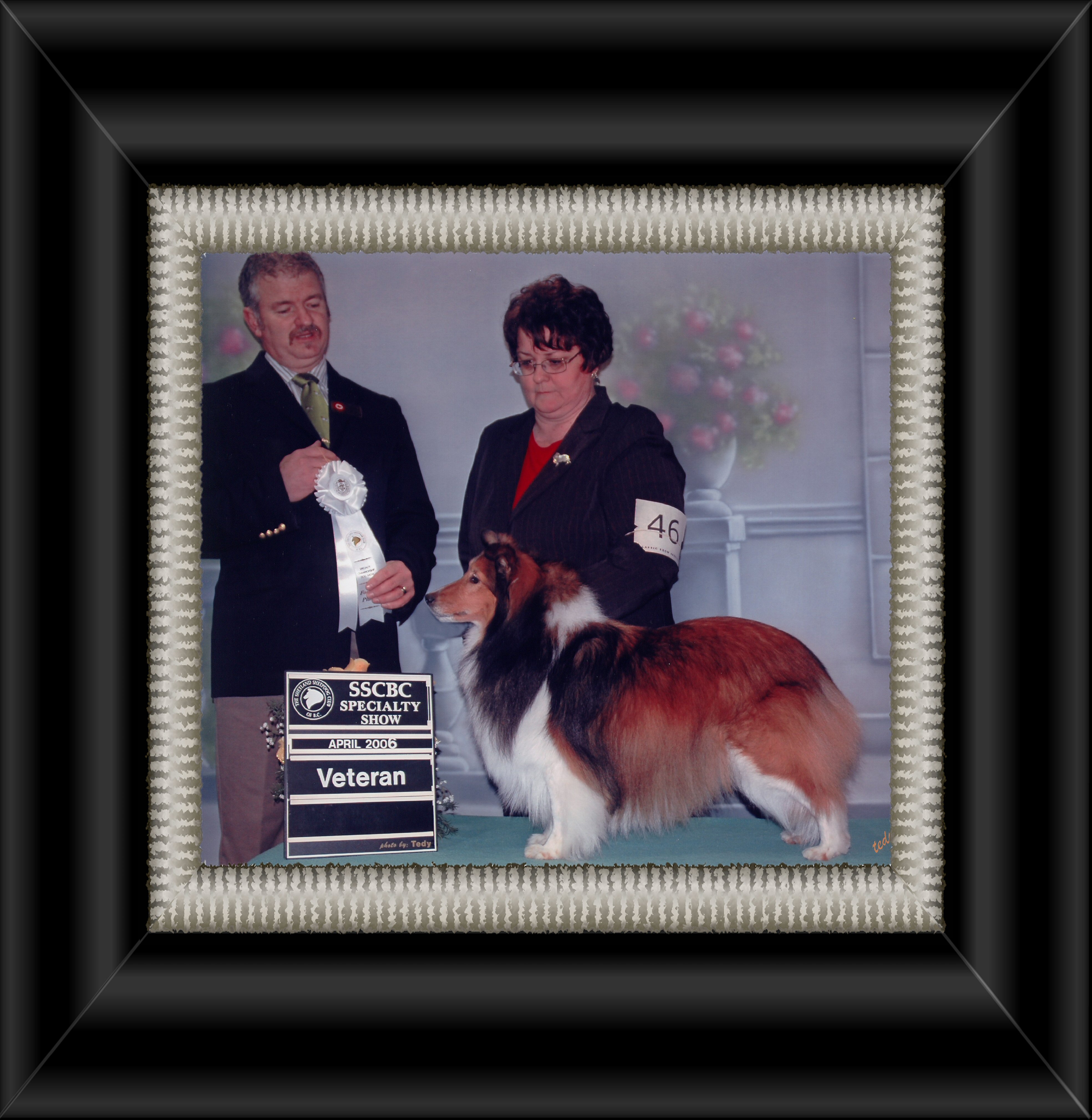 THIS OLD GIRL CAME OUT OF RETIREMENT TO PROVE SHE STILL HAD IT...MULTI GROUP BPIS CH. MARPOINTE SHEBA'S PRIDE, UNDER BREEDER JUDGE GUY JEAVONS.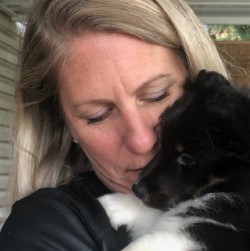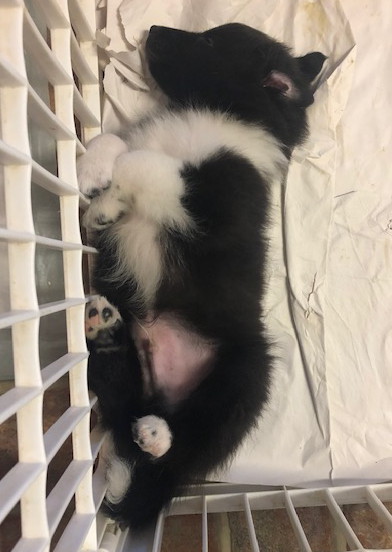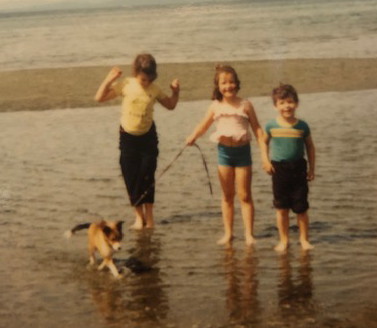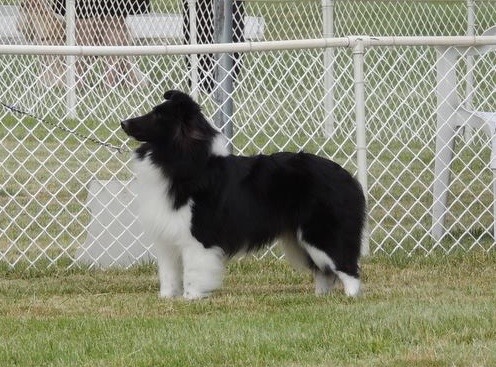 MARPOINTE GOOD TIME CHARLIE STARTED A LONG TIME AGO TO GET TO HERE!....MARPOINTE'S ALEXANDRA LEAVING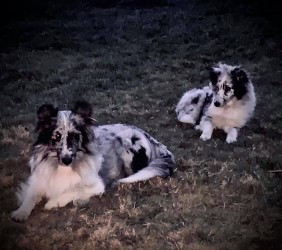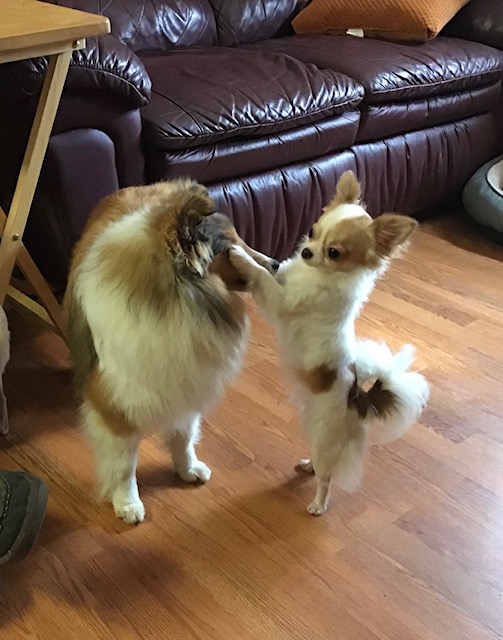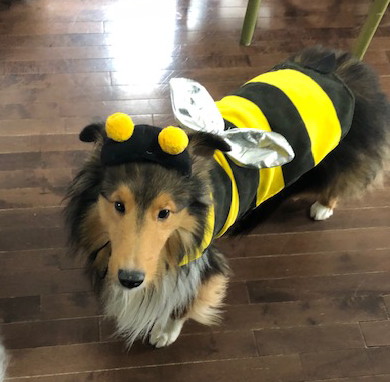 CHANEL AND DAUGHTER SIERRA FREYA AND DIANA BUDDY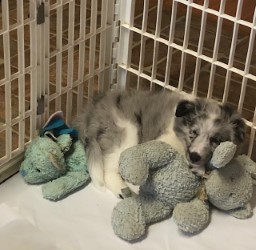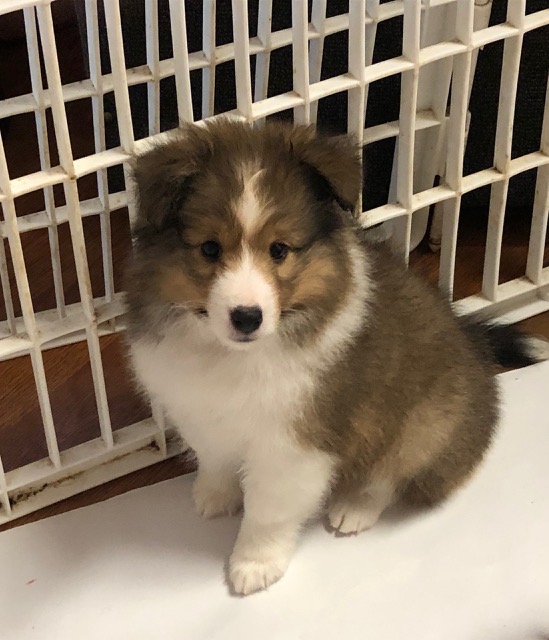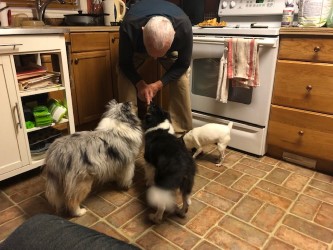 CUTE BABIES COOKING DINNER MEANS TREATS!!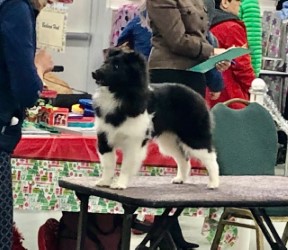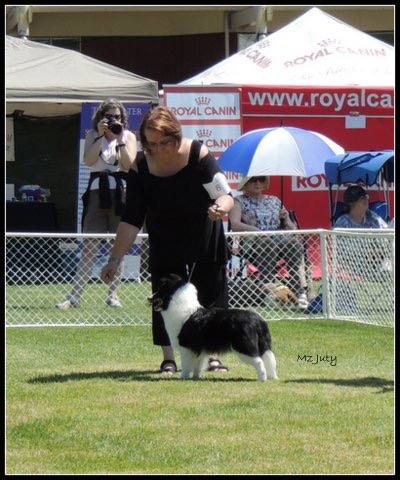 TRAINING PEPPER TO DO...THIS....LIKE HER AUNTY TIA!!!!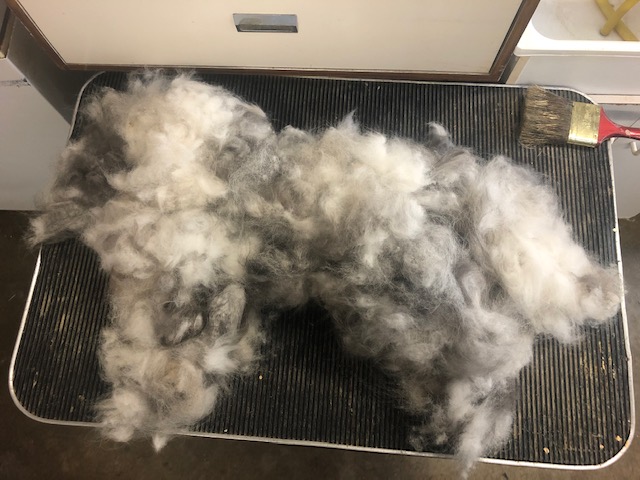 And I think I will leave this right here! This is what always happens just before a dog show! Enough undercoat to make another sheltie!